Our Terrifying Yet Gracious God
[ 45:37 ]
Play Now
|
Play in Popup
|
Download
(6)
Our Terrifying Yet Gracious God: 2 Kings #28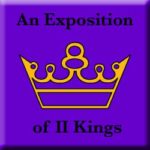 Our Terrifying Yet Gracious God is an exposition of 2 Kings 23:31-25:30. This message by Pastor Rod Harris was delivered at Trinity Baptist Church on Sunday evening, February 19, 2017.
Intro:
The nation had been through so much. While there were moments of greatness the nation, for the most part, had been on a downward projection from the start. There were kings who showed some promise yet most did not do what was right in the eyes of God. The Northern Kingdom, after repeated warning, was now gone. Judah was on her deathbed. Hezekiah had been a breath of fresh air. A good king who did what was right in the eyes of the LORD, perhaps there was still hope. He was followed by the most corrupt king the nation had ever known. Manasseh reigned for 55 years! His son Ammon was just as bad but mercifully only reigned two years. Josiah came to the throne restored righteousness and brought sweeping reform in accordance with the Law of God recently recovered. But it was too little, too late. Josiah's story is a troubling story because it demonstrates even genuine repentance and faithful obedience may not detour God's fiery judgment. This evening was come to witness the end of Judah. Our text is 2 Kings 23:31 through the end of 2 Kings 25.
Text: 2 Kings 23:31-25:30
931 BC – 586 BC, 345 years. Not long as far as nations are concerned. It was a turbulent 3 centuries. The one constant throughout was the presence of a gracious God. A patient, long suffering Sovereign dealing with a stubborn rebellious people. We often think the God of the Old Testament as a stern disciplinarian while the God of the New Testament is loving and gracious. If you've gain nothing else from this study of 2 Kings I hope that you've seen the grace and compassion of our God. Now we come to the end. Have you ever had to remove a bandaid and you found yourself wavering on whether to take it off slow and easy or just give it a yank? If you pull it off slow it's just going to prolong the agony. If you yank it, it will hurt but it will be over quickly. The writer of 2 Kings is a "yanker." He deals with 4 kings and 22 years of history in this passage. There is a lot going on here, international politics, wars, alliance yet he tells the story rapidly with only the necessary details. It is as if the writers says, "Take a deep breath…this is going to hurt but it will be over soon."
We have the story of king Jehoahaz, 23:31-35 – reigned 3 months in 609.
We have the story of king Jehoiakin, 23:36-24:7 – reigned 11 years 609-598.

We have the story of king Jehoiachin, 24:8-17 – reigned 3 months in 597.


We have the story of king Zedekiah, 24:18-25:21 – reigned 11 years 597-587.
The interesting thing is each king ends as a prisoner in either Egypt or Babylon in which they had trusted rather that to trust in God.
As we consider the end of Judah I want to do more than just give a history lesson. There is more here than names and dates. We need to draw out some principles that apply to all nations and peoples. There is something here for us.
As we work our way through these last chapters we are going to see that…
Thesis: The long anticipated end of the nation of Judah brings us face to face with our terrifying yet gracious God.
Scripture is the revelation of God. It tells us about the God we serve. It reveals to us the character of the One before whom we will one day stand and give an account. We see again that He is both terrifying and gracious. He is holy yet loving.
There are three things I want to note from our text.
A dying culture is marked by spiritual deadness and corrupt leadership.

(23:31-32, 36-37; 24:8-9, 18-19)
Such a culture is inevitably headed towards a certain and terrifying judgment. (24:1-4, 13, 20)
Such a judgment leads to a despairing sadness. (24:8-16; 25:8-17)
Conclusion:
Then there is that whisper of hope – 25:27-30.
There is this bleak end to the story and then he records an episode that takes place 26 years later.
He puts your focus back on the line of David.
Turn from the ruins of judgment and remember…
No Babylonian king or apostate leader from Judah can invalidate God's promise. It is not your righteousness but the stubbornness of our God that brings redemption.
Thus, The long anticipated end of the nation of Judah brings us face to face with our terrifying yet gracious God.