Distinctly Different
[ 36:39 ]
Play Now
|
Play in Popup
|
Download
(3)
Distinctly Different: Study of 1 John #08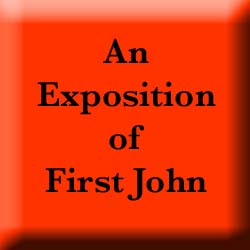 This is an exposition of 1 John 3:11-18. This message by Pastor Rod Harris was delivered at Trinity Baptist Church on Sunday morning, November 29, 2015.
Intro:
I remember as a kid going to the old Tulsa Oilers hockey games.  I remember coming through the doors of the Assembly Center and hearing that man's voice ring out, "Program get your lucky number program!  You can't tell the players without a program.  Get your programs."  All those guys down there on the ice were wearing the same uniform – you needed something to distinguish the players.  Something that would help you know who was who.  It may be time to start selling "lucky number programs!"  According to a Barna Research Study – you're going to need something to help you distinguish between believer and non-believer.
10 years ago Barna surveyed of 1024 adults concerning 7 subjects asking if the behavior was morally acceptable.  The results are, to say the least, surprising.  Cohabitating – living with someone to whom you are not married – 60% of all adults said that was morally acceptable.  49% of those claiming to be "born again" saw no problem with it.  When asked about engaging in sexual fantasies 59% of all adults found it acceptable – and 49% of the born again crowd.  Abortion – 45% and 33%.  Pornography was acceptable to 33% of all adults while only 28% of born again folks thought it was okay.  The use of profanity was acceptable to 36% of the general population and 29% of the born again.  Getting drunk?  35% and 24%.  Having sexual relations with a person of the same gender – 30% of the adult population and 20% of the born again folks.  What would have been unthinkable just a few years ago – is commonplace now.  Light and darkness have merged to form dusk while black and white have become gray!
This kind of thing would be unthinkable to the biblical writers.  The people of God have been called to live holy lives; lives that are distinct from the culture around them.  Dietary laws and laws about fabric and the Sabbath were intended to show that the Old Testament saints were a peculiar people.  They were different.  They saw life differently.  They lived differently.  In the New Testament, Jesus said his followers were to be salt and light.  The church is to function as a preservative, slowing the rate of decay in society; and a lamp, lighting the way to a better world.  Repeatedly the people are God are called to "come out from among them and be separate."  Not separate in a "holier than thou" manner but in that we are to live according to a higher standard; a different moral code.  Perhaps nowhere is this distinction any clear than in the writings of John.
We return this morning to our survey of the letter known as 1 John.  This morning we will consider the application of the social test found in 1 John 1 John 3 beginning at 1 John 3:11.
Text: 1 John 3:11-18
Thesis: The life of a genuine child of God stands in stark contrast to the life of the unbeliever.
One thing is certain in 1 John – faith in Christ demands more than just doctrinal orthodoxy.  It is more than signing off on a set of propositional truths.  Genuine faith produces a certain lifestyle.  What you believe is lived out.  It is to be put into practice.  What you believe ought to make a real difference in how you live.
In 3:11 John states his point directly.  "For this is the message that you have heard from the beginning, that we should love one another."  John is saying that the ethic of love is fundamental to the faith.  It is no accident that 3:11 is stated in the same fashion as 1:5.  As fundamental as purity and holiness undergirding the faith is the ethic of love driving all that we do.
Keep in mind – in John's world there are two kinds of people – the people of God and the people of the world; children of light and children of darkness.  He opens with a description of the people of the world using Cain as the prototype.
The unbelieving worldview is dominated by self-interest and hostility.  (3:12-13)
The life transformed by the power of Christ presents a very different picture.  (3:14-18)
Conclusion:
We are called to be a peculiar people.  We are to be different.
Not "better" but different.
We are to see the world differently.
We are to respond to the hurting and the needy – differently.
May we so live that others see Jesus in us.  May our lives stand in stark contrast to the life of the unbeliever.
God forbid that folks would need a program to distinguish the players in this game!